Feeling confident in a new place is always a plus. Knowing the language can help you not feel like a newbie. You'll want to know these few basic terms before you go on set for the first time. Any other indispensable terms come to mind for this short list? Let me know and we'll do an update.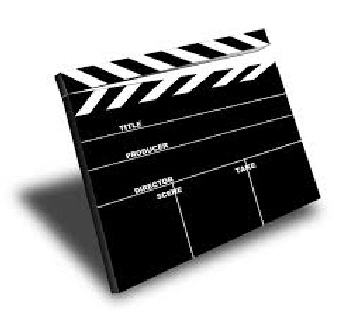 Callback – A second (or third or fourth…) interview or audition. It means they're interested in you. At a callback they may have you read with other actors in front of a producer or the director.
Booking – You've booked (gotten) the job! You have a booking. Write it in your book.
Scale – The minimum daily rate determined by the union (SAG/AFTRA), for actors under union contracts.
Call Sheet – A listing of which actors will be required for which scenes, and when they will be required. Call sheets are created by assistant directors and others.
Call Time – The time you need to be on the set the next day. Often you'll receive a text after the previous days shooting is done, sometimes late at night.
Craft Service – The caterer providing food on set. One of the nice things about film and TV is you eat well.
Background – Usually refers to "extras," the actors performing in the background of a scene in non-speaking roles. The director may also say "Background" as the cue for the extras to begin.
Day Player (Day Performer) – An actor hired on a daily basis, as opposed to a longer contract, and is generally hired for the current Screen Actors Guild (SAG) scale (minimum) rate for the day.
Double – Someone of similar look, height and weight who appears in place of another performer. A stunt double, for instance.
Extra (Background Performer) – Actors used in non-speaking roles in a film or television show, usually appearing in the background or passing through a scene on camera.
Stand-In – An individual used as a substitute for a principal performer, frequently used to set up the correct lighting and establish camera angles.
Dailies AKA: Rushes – The first positive prints made from the negatives photographed on the previous day. During filming, the director and some actors may view these dailies as an indication of how the filming and the actors' performances are progressing.
Holding – The room or space where background performers check in and stay until they are called on set.
Hot Mic (Live Mic) – A microphone that has been turned on.
Mark – A tape or a chalk mark on the floor on a set to ensure an actor will have proper lighting and camera angles. Actors enter and "hit" their marks.
Back to one – A direction for the actors to return to the mark where they started the scene to prepare to shoot another take.
Off-Camera (OC or OS) – Dialogue or action taking place off screen, unseen by the audience.
Out of Frame – A performer or object that is outside the range of a camera.
ADR (Automated Dialogue Replacement) AKA: Automatic Dialogue Replacement, ADR, Dialogue Looping, Dialog Looping, Looping – The re-recording of dialogue by actors in a sound studio during post-production, usually performed to playback of edited picture in order to match lip movements on screen. ADR is frequently used to replace production track of poor quality (e.g., due to high levels of background noise) or to change the delivery or inflection of a line. ADR can also be used to insert new lines of dialogue which are conceived during editing, although such lines can only be placed against picture in which the face of the actor speaking is not visible. ADR is great because you get paid additionally for the session.
Residual – A fee paid to a performer when a commercial, film or television program has been rebroadcast, goes to DVD, etc.
OR Share this article on facebook using the share bar below!
.
You know the lingo! Now find out the 6 Secrets to Becoming A Successful Working Actor in my FREE ebook HERE!
.
All my best,
Philip
.
Philip Hernandez is a respected acting teacher and singing coach in NYC. He is also the only actor in Broadway history to play both Jean Valjean and Inspector Javert in Les Miserables. He created principal roles in Broadway's Kiss of the Spiderwoman and Paul Simon's The Capeman. You may also know him from his many television appearances: The Blacklist, Gotham, Blue Bloods, The Path, Bull, Nurse Jackie, Elementary, Person of Interest, Law and Order, Hostages and Damages to name a few. For information about acting lessons CLICK HERE or singing lessons CLICK HERE.
Follow him on twitter @philip24601, on Instagram @philip24601 and on Facebook at @philip24601.