Hi. I'm Philip Hernandez. Music reminds me how wonderful it is to be alive. I sing about things that matter to me like passion, hope and the desire to be better than we are. I have always been driven by my dreams. I sing to inspire people to pursue theirs. I'm on a mission to break free from convention. To create new fusions of notes and ideas in exciting musical landscapes that bring fresh meaning to great songs, and to create new songs that bring us closer to each other. If you love beautiful lyrics, soaring melodies and exciting arrangements, welcome home.
.
A new CD is in the works!
I'm happy to announce I'll be releasing a new CD this year on which I'll be collaborating with the great jazz pianist, Jeremy Wall. Jeremy is best known as co-founder of the jazz fusion group Spyro Gyra. He has appeared as producer, composer, keyboardist and arranger on their 26 recordings, including one platinum and two gold records. He has recorded with many prominent musicians from the fields of jazz, pop, classical and world music. His composition "Shakedown" received a Grammy nomination for Best Pop Instrumental and "Ariana" was a #1 national jazz radio hit.
The album features a mix of original compositions and great new arrangements of Broadway classics. It's been an exciting adventure exploring these songs with Jeremy and creating a unique fusion of our individual styles. Be sure to sign up for the mailing list below so I can let you know the release date!
i.
.
The Beat of My Heart
My debut CD, the beat of my heart, combines the beauty of a classic Latin sound with the eloquence of a great jazz standard. From Cole Porter's red hot "Night and Day" to the tender "My Foolish Heart," there's plenty to enjoy in this passionate recording I produced with my brother from another mother, Grammy-winning band leader, pianist, composer, arranger, Oscar Hernandez.
The album boasts an All-Star band: Bobby Franceschini (sax), Bobby Allende (percussion), Ruben Rodriquez (bass) Oscar Hernandez (piano) and Grammy-winning arrangers Ray Santos and Marty Sheller. I'm very proud of this work – a soulful blend of Broadway and Jazz with a driving Latin beat! I hope you have as much fun listening to it as I did making it!
.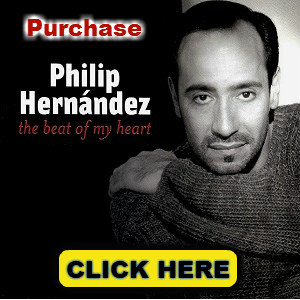 iii i  i
My Music for FREE!!
SIGN UP for the Philip Hernandez Music Mailing List &
I'll send you a FREE song from my album The Beat of My Heart!

We value your privacy and would never spam you