You're serious about working in the musical theatre. You pony up the dough to study with a good voice teacher and you're feeling good about how you sound. But you're still not getting cast! A good singing voice isn't enough to get you the gig. Here are 3 reasons you're not getting cast in Musical theatre.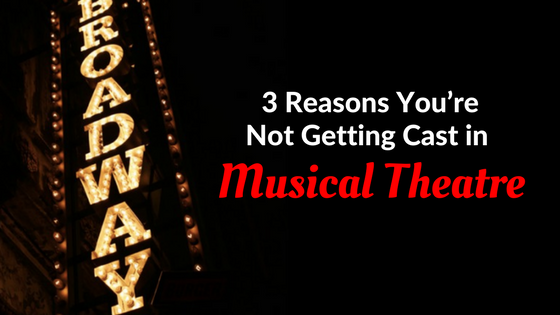 Your song's not personal enough
A great singer tells stories that reveal something about themselves and their own personal truth. Singing the words without a real personal investment in them, even with a pretty voice, is redundant. The lyricist has already written the words. Hearing you repeat them isn't what they're after. Your job is to take personal responsibility for them and fill them with your truth, point of view, sense of humor and experience. That's what brings a song to life and makes people sit up and pay attention at an audition.
Your song performance has no clear Beginning, Middle and End
Having a clear beginning, middle and end is essential to effectively telling your song's story. Try dividing your lyric into sections based on what you want. Naming your sections clarifies and gives shape to your story.
For example, if the need in your song is "to get her to say she'll take me back," your first section might be "Trying to find the words…," the second could be "I was an idiot" and the third, "But, now I know." Section names give your song a visible shape. They also give you something active to invest in and they inspire physical life in you. A clear beginning, middle and end that we can see on your body is essential to our understanding of your song's story.
You're underprepared
When I was in college I went to see my favorite funk band, Tower of Power, perform at a Jazz club in New York's West village. I was excited to hear them play live for the first time. The show was GREAT so I paid to see their second show, later that night hoping to hear songs they hadn't played.
When the first three songs were the same, I realized the setlist for the second show would be a repeat of the first. More surprisingly, every part of the show was the same! The singer said the same things between songs, interacted with the crowd and the other musicians the same way, at the same places and the music, note for note, was practically identical. Everyone onstage was just as into it as they had been in the first show and they got the same enthusiastic reception from the crowd.
As a fan I was a little disappointed but, as a theatre student, I marveled at their efficiency, skill and professionalism. I learned a valuable lesson that night. Preparation does not kill spontaneity.
You wouldn't "wing" a dance routine. The detailed preparation involved in dance doesn't prevent a dancer from giving a vivid, emotional performance, it frees them to do so. Sing a song at an audition without thoroughly preparing physically, vocally and as an actor and you're setting yourself up to miss out on the opportunity to be cast.
Avoiding these three pitfalls will significantly improve your auditions. Now that you're on your way to getting cast in musical theatre, you'll also need to choose the right songs for your book. My free guide How To Choose The Perfect Audition Song will show you how!
All my best,
Philip
Originally published on Backstage.
.
Philip Hernandez is a respected acting teacher and singing coach in NYC. He is also the only actor in Broadway history to play both Jean Valjean and Inspector Javert in Les Miserables. He created principal roles in Broadway's Kiss of the Spiderwoman and Paul Simon's The Capeman. You may also know him from his many television appearances: The Blacklist, Gotham, Blue Bloods, The Path, Bull, Nurse Jackie, Elementary, Person of Interest, Law and Order, Hostages and Damages to name a few. For information about acting lessons CLICK HERE or singing lessons CLICK HERE.
Follow him on twitter @philip24601, on Instagram @philip24601 and on Facebook at @philip24601.