A young actor on Twitter recently asked me: "When you set out to pursue acting what was the most challenging thing for you?" Rather than tweet a response in 140 characters or less I'll blog my answer and hope that if you're starting out might see yourself in my story and be able to progress faster than I did.
.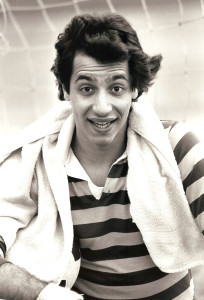 .
As a young actor I was not the most naturally gifted among my peers. I had been an athlete, a soccer player, so I had some awareness of my body but I certainly didn't have a keen awareness of my inner life nor had I been much of a student of others. Despite these shortcomings, I knew I wanted to act.
I soon discovered two bigger challenges:
1. I was afraid of making choices and
2. I was easily distracted
In my first real acting class I was asked to do a simple exercise: Using your body, create the statue for which you will be remembered for all time. My mind raced! "All time? Who am I, for all time?!" I tried different poses but they felt false, not enough or too much. I froze. It was too big. I was center stage in front of the class, exposed and upset. Finally, the teacher looked at me and said softly "Phil, it's just an exercise."
But to me it was more than an exercise. I realized I had a strong need to choose the right answer, to be a good student, to appear competent in the eyes of others, to not embarrass myself. I cared too much what others thought of me. A window into my inner life had been thrown open and what I saw was terrifying. These were the very things that would prevent me from being an actor.
So I worked hard to care less what other people thought of my work and I became kinder to myself. Knowing who you are takes time. I accepted where I was and I cut myself slack for not being further along. Over time, I learned to quiet my internal editor's voice and simply express what I felt. I learned that in rehearsal you discover what works through trial and error.
My other challenge was distraction. First order things, like a job and a place to live, took precedence by necessity. Classes needed to be paid for too which meant lots of work. After work, the need to blow off steam would take hold. I'd earned it, after all, and there were so many reasons to party, hang out or watch TV. But between work and play there was little time left for serious study. In the cracks, I tried to squeeze reading, seeing plays, rehearsing audition material and taking class as if they were an afterthought. My growth as an actor slowed.
It wasn't until I shifted my priorities and learned to budget my time accordingly that things turned around. I worked only as much as I needed to make ends meet, studied more and played less. I learned the hard way and I paid a price in wasted time.
So visualize your goal and work backwards from there determining the steps you must take to reach it. Then keep your eye on the prize. No challenge, no matter how large it may loom, is insurmountable if your desire is strong and a plan is in place.
Sign up HERE to have my acting & audition tips sent directly to your inbox! To say thanks I'll send you my ebook "The 6 Secrets of a Working Actor"
.
All my best,
Philip
.
Philip Hernandez is a respected acting teacher and singing coach in NYC. He is also the only actor in Broadway history to play both Jean Valjean and Inspector Javert in Les Miserables. He created principal roles in Broadway's Kiss of the Spiderwoman and Paul Simon's The Capeman. You may also know him from his many television appearances: The Blacklist, Gotham, Blue Bloods, The Path, Bull, Nurse Jackie, Elementary, Person of Interest, Law and Order, Hostages and Damages to name a few. For information about acting lessons CLICK HERE or singing lessons CLICK HERE.
Follow him on twitter @philip24601, on Instagram @philip24601 and on Facebook at @philip24601.