Recently an actress names Brandy asked: "Is there an age that is too old to start acting? I'm 42 and I just now have the courage and time to attend acting classes."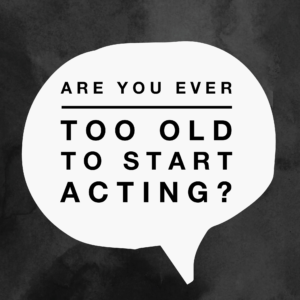 You are not too old to start acting. Having the time and the courage (and probably the funds) to pursue your passion is an enviable position for a beginning actor to be in. The years of life experience you have to draw upon will be a distinct advantage and an immeasurable gift as you begin your new adventure.
At 42, you're probably more self-aware than someone with fewer years under their belt. By now you know you're not the center of the universe. You know the joy of falling in love and the pain of falling in love with the wrong person. You've mourned the death of a loved one. You've been the hero, the bad guy, the scapegoat, and the supportive friend, and you've been around long enough to understand the intricate dance that relationships are. You've known the thrill of getting something you desperately want and the crushing disappointment of failing.
You may also have learned that setting goals and working hard to achieve them is what distinguishes the winners from the rest of the pack. You're likely more motivated to learn, less impressionable, and a little bit more patient. You've made plenty of mistakes and have learned how to "pick yourself up, dust yourself off, and start all over again."
Most importantly, your years of experience have given you something to say! The choices you've made have made you who you are and have given you a unique, personal point of view. Lessons learned from running a business, raising a family, or caring for a sick parent have given you an awareness that would be difficult to attain without having lived them. All this adds depth to your work as an actor.
When you wonder if you're too old, remember that Tony winner John Mahoney started acting at 37, then went on to have a great career in film and television. Two-time Emmy winner Kathryn Joosten started acting in community theater at the age of 42. Colonel Sanders created KFC at the age of 66, and Peter Roget published the first modern thesaurus at 73.
So get out there and explore your passion. See you in acting class!
Need help booking that next big gig? Be sure to grab a copy of my free guide 5 Ways To Nail Your Next Audition HERE.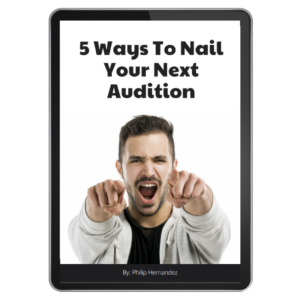 All my best,
Philip
Philip Hernandez is a respected acting teacher and singing coach in NYC. He is also the only actor in Broadway history to play both Jean Valjean and Inspector Javert in Les Miserables. He created principal roles in Broadway's Kiss of the Spiderwoman and Paul Simon's The Capeman. You may also know him from his many television appearances: The Blacklist, Gotham, Blue Bloods, The Path, Bull, Nurse Jackie, Elementary, Person of Interest, Law and Order, Hostages and Damages to name a few. For information about acting lessons CLICK HERE or singing lessons CLICK HERE. 
Follow him on twitter @philip24601, on Instagram @philip24601 and on Facebook at @philip24601.